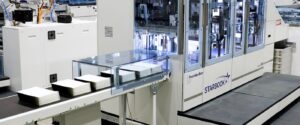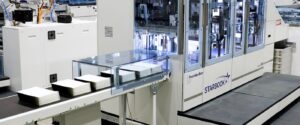 Hunkeler wins the IHZ Innovation Award 2023
Less waste, shorter transport routes, better quality. The new automated book solution "Hunkeler Starbook Plowfolder" enables the production of digitally printed books from print run 1.
With its innovation, Hunkeler AG is making a significant contribution to change in the book industry and is now being honored with the 37th Innovation Award of the Chamber of Industry and Commerce of Central Switzerland IHZ.
The book printing market has changed significantly in recent years. Thanks to new digital printing systems, more and more books are being printed using digital printing technologies instead of offset. This makes it possible to print books in smaller print runs, even down to edition 1. In the production process, this means that the book produced is different from the previous or subsequent book. However, for efficient use, a special paper processing technology is required. This is exactly where Hunkeler AG comes in with its "Hunkeler Starbook Plowfolder". The innovation enables companies such as a major online retailer to produce books "on demand", making 1-off runs worthwhile.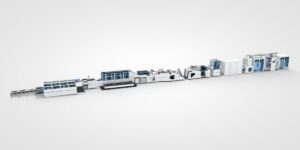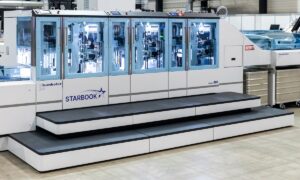 "On demand" book ordering thanks to more flexible printing system
Traditionally, books are produced in five to eight individual steps, depending on the type of book – from printing and folding to cutting and packaging. The individual steps are not interconnected and the paper usually has to be transported manually from one processing step to the next or even stored temporarily. The digital print finishing system developed by Hunkeler AG now combines several of these steps and produces around 2,000 book stacks per hour from a white, unprinted paper roll at full capacity. The "Hunkeler Starbook Plowfolder" book solution is a process innovation. The uniqueness of the machine lies in the fundamental change in the way a book is produced. The IHZ Innovation Award jury was particularly impressed by the speed, quality, automated monitoring and adaptability during operation. "In an increasingly consolidating book market, this process innovation comes at exactly the right time. Furthermore, the machine produces a minimum of waste thanks to flexible adjustment options. In terms of sustainability, this is a major plus point," says jury president Hans Wicki. Daniel Erni, CEO of Hunkeler AG, was also visibly pleased: "We are very proud to receive the Innovation Award! It confirms that we, as a progressive Swiss company, are doing many things right and are perceived as a technology leader in the digital printing industry."
About IHZ
The Chamber of Commerce and Industry of Central Switzerland IHZ is one of a total of 18 chambers of commerce and industry in Switzerland. The IHZ is Central Switzerland's competence center for economic policy and export. Independent of party politics, it represents over 700 companies in the cantons of Lucerne, Uri, Schwyz, Obwalden and Nidwalden as an important regional network. In addition to its tasks in the areas of economic policy and export as well as its networking activities, the IHZ is also involved in education. For example, IHZ actively contributes to the transfer of knowledge as the organizer of business weeks at schools in Central Switzerland, as co-owner of the Swiss School for International Business or with individualized export seminars.
To media report: https://www.ihz.ch/news/artikel/medienmitteilung-ihz-innovationspreis-2023-hunkeler-ag/