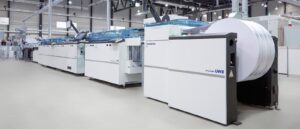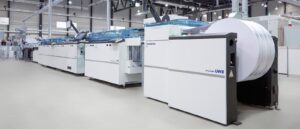 Digital Web Finishing
Under the Digital Web Finishing brand, we combine all Hunkeler solutions that are fed from paper rolls and printed in continuous printing. Hunkeler is the pioneer in the segment of digital print finishing from the roll. For over 40 years, Hunkeler has been building web finishing machines for high-performance digital printing, today already in the 8th generation of machines.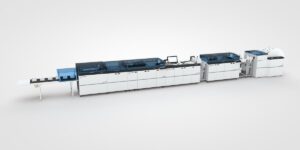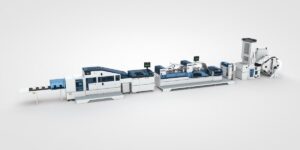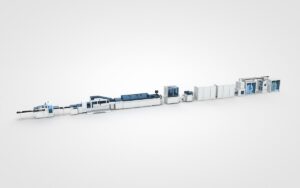 The future of finishing technology
Hunkeler is unveiling the new Generation 8. The new technology is consistently designed for digital color printing systems and processes web widths up to 22.5 inches wide (570 millimeters) at a web speed of up to 180 meters per minute. Generation 8 is ready for future printer generations in the top performance class. Sections with variable formats, changing punch and perforation patterns, and variable collating of sheets or folded signatures are just some of the finishing processes that are dynamically controlled.

View solutions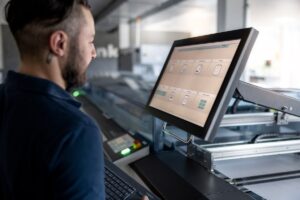 Hunkeler Workflow Manager
The new central control system
The Hunkeler Workflow Manager (HWM) heralds a new age in line operation and production planning. Lines and locations are networked with one another to enable optimum job production. The first available apps support quick and easy creation of production operations by visually indicating the printing formats, including register marks and matrix codes. The jobs can be created directly on the line or conveniently in Printing Preparation, and sent to the relevant lines. This considerably reduces set-up work on the production line  and means that print jobs are produced more quickly. Hunkeler is constantly working on additional apps which offer customers added value and can be installed on the HWM at any time.
Advantages with Hunkeler Digital Web Finishing
Quickly retrofittable edge-, center- and gutter-cut-tools
Unsurpassed high cutting blade life
Electronically variable cross-cutting width
WI8 web inspection with high-speed CIS scanner
Module-integrated web inspection and tracking technology
Tool and machine protection by web splice detection
Gentle, smooth paper transport for modern inkjet printing papers
Excellent lightweight paper capabilities
Excellent sheet edge quality
Outstanding stacking and book block quality
Latest future-proof drive and control technology
Discover which innovations and improvements have been realized with the new Generation 8 in our Innovations@Work section.
Do you have any questions about our solutions? We will be happy to help you.