Smart Logistics Solutions
With the new Hunkeler brand Smart Logistics Solutions, Hunkeler offers transport, sorting and collection solutions. These automated logistics solutions for complex on-demand print products deliver the goods in a controlled and efficient manner until dispatch according to individual customer requirements.
The new Book Sorting Module BSM is the first module of the Hunkeler brand Smart Logistics Solutions. The modular system sorts up to 2 000 book blocks per hour according to customer specific criteria into various transport containers. The book sorting module can be installed behind all Hunkeler book solutions.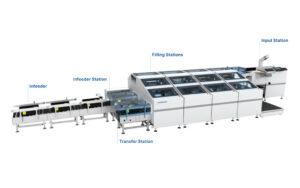 Book Sorting Module BSM
The sorting criteria on the new Book Sorting Module BSM can be defined on a customer-specific basis. The BSM has 10 sorting options, including specifications for rejecting test, quality, and reject products. By reading the printed codes, the book blocks are assigned to the designated boxes. As an alternative to fully automatic sorting, the BSM can be operated in a "bypass mode" and equipped with an additional manual sorting stations. In this case, the individual book blocks are transported directly to this manual sorting station.
More information