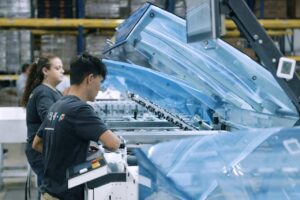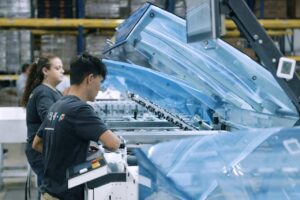 Prisma Graphic
"It's fun to see the investment pay off, and the end result you see in the field is encouraging"
Prisma Graphic of Phoenix, Arizona
Prisma Graphic began as a small commercial printer serving the local market. Over the years, they brought services in-house and became one of the Southwest's leading supply chain marketing providers with a national reach.
Before Prisma Graphic final equipment decision, they spent two years doing extensive research, visiting corporate headquarters for demonstrations of the various presses and finishing lines. They also made several visits to existing users to get an accurate understanding of their needs. It was an extensive evaluation process, but Kerry LaBatt, VP of Operations at Prisma, is glad they did it because it proved to be the right decision for them. "It's fun to see the investment pay off, and the end result you see in the field is encouraging," he says.
In addition to the roll-to-roll inline solution with the Screen Truepress Jet, the Phoenix site now has a roll-to-stack solution with the Dynamic Processor DP8, LS8-30 stacker and TB8 conveyor with overpass into a Horizon buckle folder to produce pieces up to 30 inches. The Dynamic Processor DP8 provides dynamic linear and cross perforation and optional dynamic punching.
They chose a Hunkeler solution because Hunkeler knows the commercial market segment well. With their solution, they can do anything from a small postcard with 4-up separated output to a poster-sized piece. The effort required for finishing has been greatly reduced as the solution can cover the entire area during a shift with only two operators.
Prisma has some large customers with significant volumes that they couldn't do without this equipment. Once they install the equipment, it opens new doors to attract other customers that they would not consider without these services in-house.
Standard Finishing Systems and Hunkeler AG have a reliable support team. "If we have any issues we have phone support. The level of support we get is very professional, timely, and for the millions of pieces we run through this solution, the support and service are very successful.
Many thanks to Kerry LaBatt, VP of Operations at Prisma for the interesting insights and credits to INKISH for the video production.