Zofingen and Wikon, Dec. 6, 2023
Müller Martini and Hunkeler join forces for the future
After careful consideration, the owner families have decided to merge the Hunkeler Group with the Müller Martini Group. Müller Martini Holding AG has acquired all of the shares of the Hunkeler Group. With this transaction, the Hunkeler family and Crédit Mutuel Equity have sold off all their shares to Müller Martini. The parties have agreed not to disclose the purchase price.
Hunkeler AG and Müller Martini AG are both global market leaders with innovative solutions for post-print paper processing. Both companies focus a significant part of their innovative strength on the economical production of individualized print products within an automated smart factory.
Hunkeler and Müller Martini have been very close for many years. The long and successful history began during the 2nd World War, when Hans Müller worked for Hunkeler as a mechanical engineer before setting up his own business in 1946 and founding the company Hans Müller / Grapha. These good relations have been maintained for decades. The local proximity in the Zofingen region and the already existing and successful partnership in the machine and component business form an ideal starting point for even closer cooperation in the future.
By joining forces, both companies see great opportunities to bundle their innovation activities and to serve their global customer base even better in the future through joint sales and service activities. The two owner families have therefore decided on this strategic transaction that led to the acquisition of Hunkeler AG by Müller Martini AG.
Bruno Müller: "The graphic arts industry is constantly changing and regularly calls for new innovations. By combining the key components of the two companies, such as personnel, expertise and technology, we will be able to serve our global clientele even better with innovative solutions in the future."
Stefan and Michel Hunkeler: "There is a long-standing partnership between Hunkeler and Müller Martini and a regular exchange. The opportunity for the merger is currently greatly beneficial for both partners and our joint customers, as it will result in considerable advantages in a combined enterprise. This is also a strong commitment for the Zofingen region."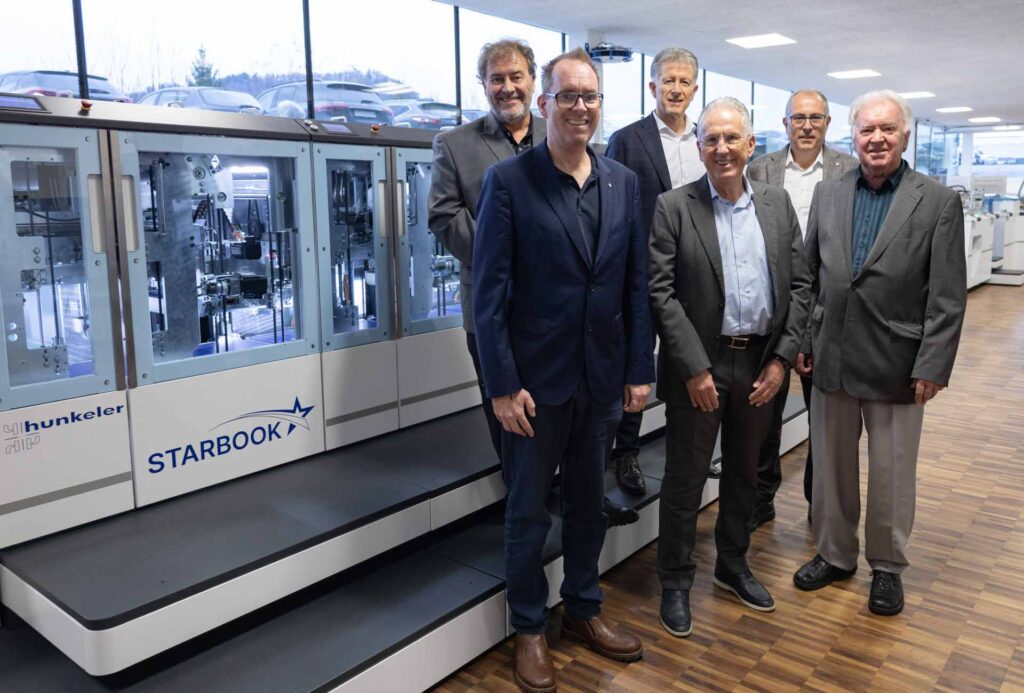 Company handover between owner families: from left to right Stefan Hunkeler (President of the Board of Hunkeler AG), Michel Hunkeler (Delegate of the Board of Hunkeler AG), Bruno Müller (CEO Müller Martini AG), Rudolf Müller (Owner and Member of the Board Müller-Martini AG), Daniel Erni (CEO Hunkeler AG), Franz Hunkeler (Patron of Hunkeler AG)